How to Make Everything from Tees to Decor from PC to Store
There really is no "warning" except for this: Do not take this course's steps in any direction you wish to (e.g. thinking you can start in the middle, or back to front etc).
In order to ensure that you finished, set up and ready; it is designed from (literal) start to finish.
Nothing can be done out of sequence.
This course isn't a book of lessons to just-read/skim through.
Every. Single. Line…line is a filled with (actionable) steps, information and tasks-by 
which you will be (actually) opening accounts and will be (actually) designing for your store today. You will (actually) be prepared to design, publish and sell products today—by end course, guaranteed.
Aside from the marketing and advertising tools I threw in as a bonus at the end-that I didn't even tell you about before purchasing this course), nothing, no resource, tools, or set up in this course, costs you.
You have no reason to not be up and running by end-course. This is no "30 days to success" class that-by end course-you end up surprised with costs to get moving that you cannot afford and you're therefore uninspired and stuck. No. This aint that. 
Other than no promises that what you design will sell, there really is no disclaimer. Although I have some clutch resources at the end of the course, still, you are going to have to move your own products that YOU are going to be taught how to design. I however, got what you need to get you moving. GUARANTEED.
I do not sell "dreams," "probably," or what's possible or probable.
I do not believe in taking people's money for anything other than what's solid, real and what (actually) works.
Having said that, the only "disclaimer" is that I cannot market, advertise and move/sell any product you design. That's on you.
But as aforementioned, as a bonus and "extra", I even set you straight on that.
At the end of this course, I got you TONS of links to present/market and advertise your products in ways that will make you unignorable—up to and including 8-second digital, flipboard advertising (you know…the billboards that you see on the expressway and around town that flip different ads every 8-15 seconds)?
TAP IN. ↓ Saw a billboard in an area of town where YOU live where you'd like your product, brand or service to be? They allow you to buy blocks of space on that board! BLOCK YOUR CHOSEN AREA OF TOWN TODAY!
HURRY, THOSE SLOW TRAFFIC MORNING AND EVENING DRIVE-TIMES FILL FAST! 
Yeah. I've got you covered. 
I got you covered on online digital presentations for you Instagram, online stores, website/e-commerce store and more!
I'm excited.
By the end of this course, I guarantee you will be product-producing ready-without having to spend one dime (other that what you paid for this course).
Still however, the effort you put into your marketing, advertising and product presentation is on all you. But I can assure you that after this course, you will have the power, the tools and the resources to build a limitless and timeless portfolio.
Having taken the most important step to invest in yourself today, you are ahead of the game than most and many online talking, dreaming and clueless about what to do to leverage the digital landscape.
Congrats on investing in the steps guaranteed to enable and equip you with the tools, knowledge, education and information to create products to sell either online, or to your customers, followers, fans, clients or general public.
Your empire awaits…
So bookmark this link. Get ready. Get set, to go!

Shh...Let's have a sneak peek at Lesson 1:

LESSON 1
The Basic Terminology & Lingo of the Business of (On-Demand Printing/Order Fulfillment/Warehousing) That You ̶S̶h̶o̶u̶l̶d̶ Must Learn
BRICK & MORTAR - Brick and mortar (as opposed to "virtual," "digital" or "online"), is the good old fashioned street-based business offering products, goods and services to customers on a face-to-face basis via an office space, mall, store that the owner rents to sell from e.g., local grocers, banks, restaurants etc.
VENDOR / ONLINE STORE OWNER – A vendor (whether or not he/she has a brick and mortar store or sells out the trunk of his/her car) is still a "vendor" just as sure as an online store owner is a vendor, too.
WHOLESALE / WHOLESALER – Wholesale or a wholesaler is the owner of a product/products(s) who, in turn offers the sell of that/those products at enough discounted price such that the vendor has enough leeway to markup the price enough to sell those products at reasonable price enough to make a profit.
PRODUCER/MANUFACTURER – The company that actually makes or brings the product(s) to fruition and ready to sell/for sale (either directly to the vendor or wholesaler). The manufacturer can too, be a wholesaler.
DROP SHIP – When an online store owner/vendor fulfills a product ordered by a customer, a third party then ships it to the customer. For example, many of the online stores you see across the Internet that you see on Facebook (and especially those Instagram stores)-those people select merchandise offered at a particular "wholesale" price (from the wholesaler). If they have a brick and mortar store or want to sell that merch offline, they can simply purchase the

 

merchandise and sell independently offline (in their brick and mortar stores) and/OR if the store owner/vendor wants or has an "online store," via this same "wholesale discount" the store owner/vendor selects the pieces of merch that they want to sell in the online store and work directly with the manufacturer/wholesaler (who fulfills the order, package and ship it to the customer, or to the vendor who, in turn, packages it and ships it to the customer.
The profit is the difference in the initial ("Wholesale") cost of the item—and whatever price the vendor's sells it at.
As for the online seller, their profit, too, is the difference in the initial ("Wholesale") cost of the item—and whatever the price they sell it for.
In short: This is where brick and mortar/independent/virtual/offline or online seller's price markup makes all the difference—in profit.
PRINT ON DEMAND - As opposed to brick and mortar having the products already in-store and stocked, print on demand is a technology that does not have product on hand. Print on Demand was invented with digital technology as the worldwide web (www.) opened itself to offering product, goods and services online (and like the traditional online seller-with product on hand-selling to customers): Customer orders a product online. Online store owner has that product in stock/on hand. Then online store owner fulfills/packs that order and ships it to the customer.
The slight difference from the traditional online seller and the print on demand online store owner/seller (or print on demand service) is that all products goods and services are printed/produced upon the customer ordering the product(s). The physical product is never stored anywhere.
Upon preorder, the product(s) is produced/manufactured and typically shipped from where it is printed/produced and manufactured.
Print on demand technology/products are available in every form of media and content from books, to apparel to furniture, home décor and more.
FYI. Most products that you buy from any "regular" store begins 'bare.' And is then designed on, produced/printed and put out on display for sale.
Print on demand products-too-are 'bare.' And once printed on (with your designs-that you will learn how to do from your computer in this course), they are then produced/printed on to the garment/merch, packaged, then shipped to the customer only upon ordering.
WHITE LABEL- White Label is to drop shipping OR a print on demand business what a ghostwriter is to an "author."
An author and a writer are two different things. Just because one is an "author" doesn't mean he/she is a "writer." You are always the author of your life but writing about it is all a matter of having written it--or not. By contrast however, a writer (having published content) is always an author. Authors who aren't writers use ghostwriters to write their books and the ghostwriter remains unnamed and hidden.
When you see your favorite rapper, actor, or singer toting a "best seller" and referring to themselves as, or has "author" added to their bio, that means they've authored the story (like you and I "author" our lives or online posts/content) but having written that story is an altogether different animal.
You can think of white-labeling like that.
White labeling is a fully supported product or service that's made by one company/business but sold to another-and that maker allows that business or brand to brand itself by standing fully in front of product or goods-up to and including having its logo being put onto the product or goods (that were actually made by someone else). For example, grocery stores sell cereal and other products with their own brand name at a discount (to other brands/businesses/customers).
INTEGRATION – Generally speaking, integrating anything is the process combining/conjoining/consolidating. As integration matters to you-for this course, an example of integration is this: Anybody having purchased this course NEEDS the fulfillment resources we provide, but not everybody needs integration. Here's how:
If you are here to get the design lesson to enable you to design your own merchandise (via the fulfillment sources that I also provide in this course+ more) you are going to be outright buying the merch that you design on (that you get at a wholesale price). You will then order that merch and sell it from your brick and mortar store. 'Integration' doesn't necessarily concern you. But still, it's good to know what it is.
If you are here to get the design lesson to enable you to design your own merchandise (via the fulfillment sources that I also provide in this course+ more) you are going to be outright buying the merch that you design on (that you get at a wholesale price) too. BUT you will the order that merch and even if you [so much as]sell it it from the back of your trunk, or sell it to your neighborhood friends, or solicit to sell the merch through your social media sites to your fans/followers etc., then 'integration' doesn't necessarily concern you, either. But still, it's good to know what it is.
BUT if you are here to get the design lesson to enable you to design your own merchandise (via the fulfillment sources that I also provide in this course+ more) you are NOT going to be outright buying the merch that you design on. The merch that you design will be pushed through to an online store (like Shopify for example). 'Integration' does concern you. Because the merch you are going to be designing will be offered to you at a discount by which, after you design it (which too, you will be taught how to in this course); you will then push your designed merch to the online store (like Shopify). In that case, yes, you (in this course) you will be pointed where to do that at, but if you want or require help with full integration setup and wish to have me set your online Shopify store up and then and hand it right over to you, I offer that in (OFFER C,which has even more perks)!
BASE/TEMPLATE - All products that you design on will be displayed clean and white-like canvas to an artist. You are the designer to the base/template of that piece of clothing/product/merchandise as an artist is to his canvas within the specified parameters like such ↓ unless it is an AOP product.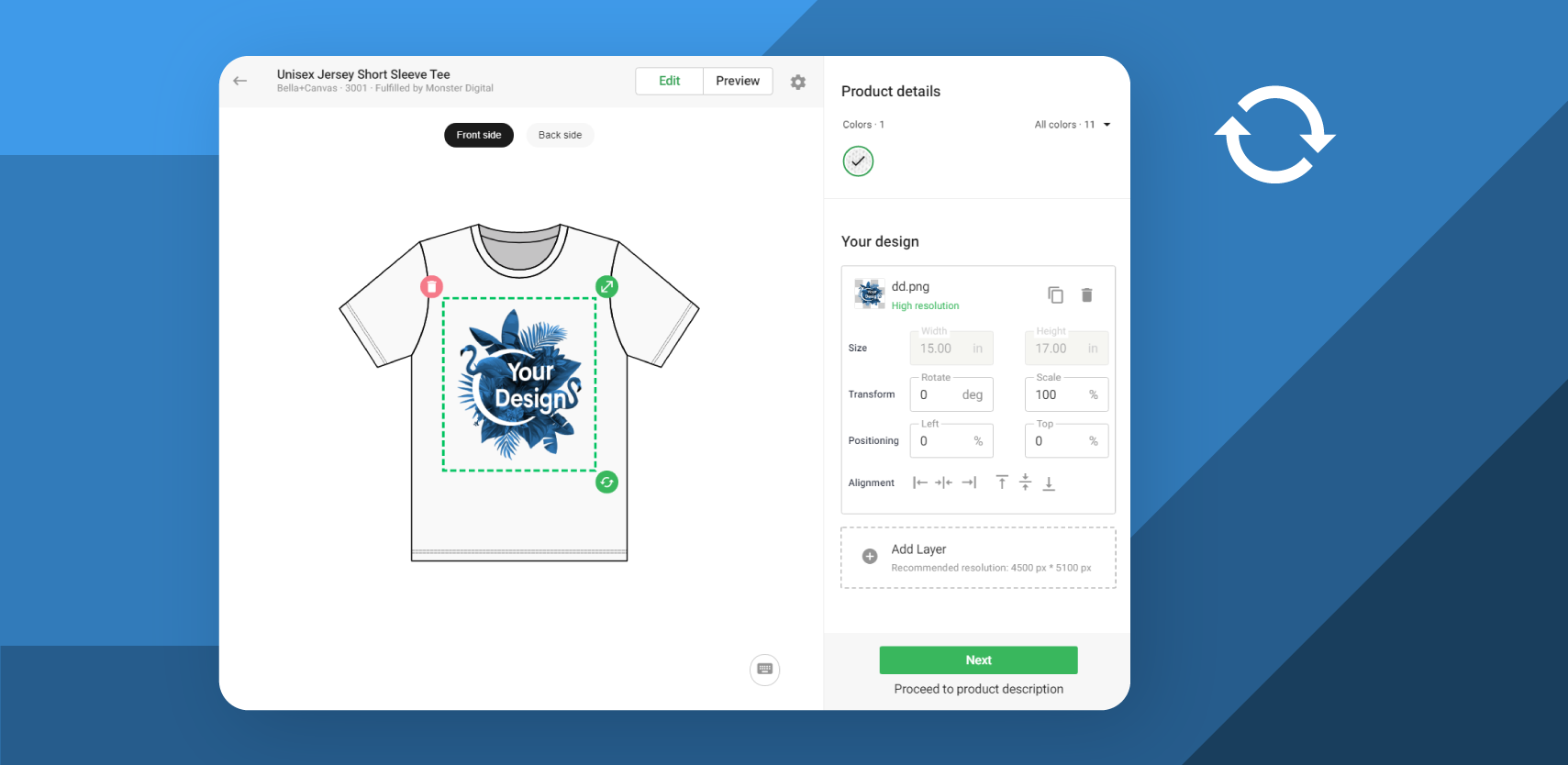 AOP All over print. That means that rather than the specific area/parameters allotted to print; AOP will allow you to design over the entire t shirt, legging (or whatever product permits all over printing to be done on it)--like I did here, for this t-shirt dress/oversized t-shirt. Tap it.
CUT & SEWN - I will give you the Wikipedia definition: "The term cut and sew is used to denote a garment that has been customized from raw fabric rather than one that has been purchased from a third-party supplier and then screen printed or altered. ... Cut and sew garments are generally of higher quality and price than a standard mass-produced item." -Wikipedia
FYI: Some online store owners/designers feel fancy mentioning "cut & sewn" in their product listing's details or headline (obviously because of the definition). But to the average customer-it's useless information to include (despite it being useful to know). If you want to use "cut and sewn" in your product details in your sale listing, don't be surprised if you are asked by a customer what exactly does "cut & sewn" exactly does that mean? Think from a customer standpoint.
Cut & Sewn merely sounds like something done by a seamstress (rather than cut & sewn having to with the quality of the garment). Handle that as you wish-but just sayin.' Furthermore, my recommendation is this: In your product listing, conversation with a customer or however you choose to advertise), don't invite unnecessary conversation/questions/inquiries that take up your time-all for trying to sound 'fancy' from a side-sided understanding of a term. Simply offering your customer "cut & sewn" quality merchandise and customer satisfaction will suffice as, the majority-if not-all-of the merchandise that you will be designing on is "cut & sewn" anyways.
MOCKUP/MOCKUP GENERATOR is like a virtual mannequin-a picture of a real human being modeling for you. A mockup generator to an online store owner is like an actual mannequin to a brick and mortar store owner. Period. Dot. OFFERING 4 DIFFERENT COURSE DOWNLOADS
Why? Because we realize everybody doesn't want the same thing :)
A = Cheat sheet:

 

Straight links. For the entrepreneur wanting the resources, tools and links but can self-teach/has the time to research their own "how to"/instruct. Gets links to the free digital design tools I use to create every piece in this store but no tutorial. I look at it like this: If somebody would have just given me all the links to create my own portfolio of products...*sucks teeth* oh, the time and money they would have saved me...
A+

 

= Cheat Sheet A + the tee/décor/digital design tutorial that I give in Lesson 9 + links to those free design tools. As well, you get the digital design terms that you must know (and how to mix and sip color, layer, background etc). There are things you must know about designing digitally in order for your printing to be as crisp as with heat press/manually.
B

 

= Cheat Sheet A + A+ and full (step by step) course instruction for the brick and mortar store owners, entrepreneurs (influencers, brands, celebs, or even street vendors selling out the back of a car trunk) who don't want online store setup instruction (but pointed where to if they later decide). In this download, you still get all the resources, instruction and tools that enables you to design your own tees/merch to sell in your brick and mortar stores and/or to your customers, fans, followers etc.
C= Strictly for the entrepreneur who wants Cheat Sheet A, A+, B and complete online store setup and handed over to them along with tons more! 

Too many benefits to list here.

(Tap here. Scroll down to Offer C).
P.S. By the way, no, we are not "sold out" as it states atop the page. We just haven't made the (.pdf) e-book/course live and available for download (just yet)...
See ya soon!